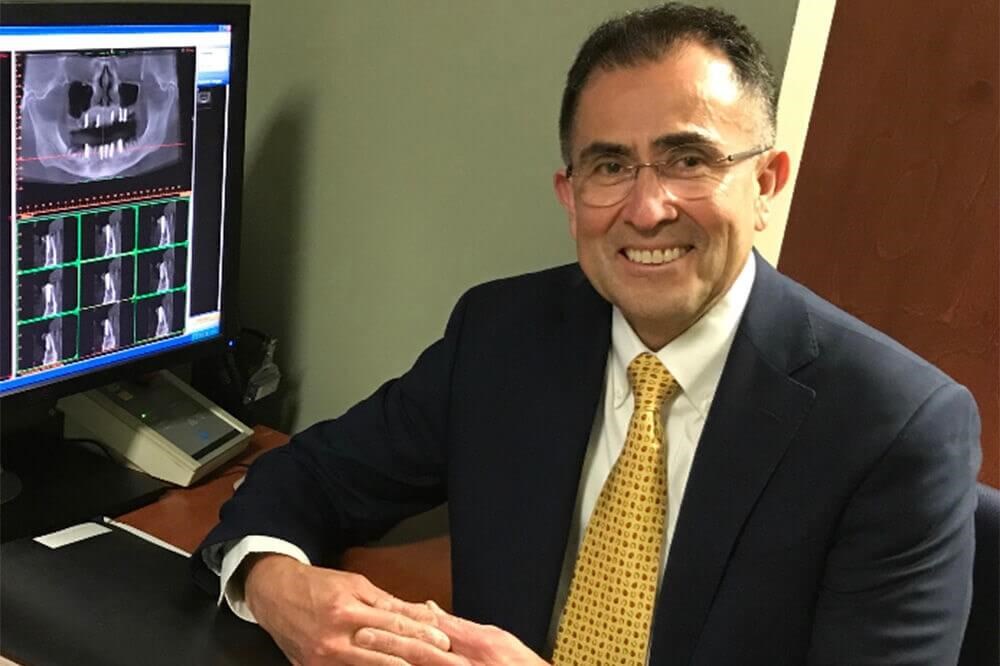 Edward B. Delgado, D.D.S.
Dr. Edward Delgado attended Georgetown University as a student-athlete, where he played 4 years of NCAA football. This led to him signing NFL contracts with the Cleveland Browns, Washington Redskins, and Oakland Raiders. An injury ended his NFL career, and he went on to attend Georgetown University School of Dentistry.
Dr. Delgado graduated Cum Laude and completed his Oral and Maxillofacial Surgery residency and medical school training at Nassau County Medical Center in East Meadow, New York, and at Stony Brook School of Medicine. He was chief resident and, in the early 1980s, was involved with one of the first implant teaching centers in the United States. This center was led by Dr. Per-Ingvar Branemark and his original Swedish surgical team for the placement and restoration of the dental implants that are used throughout the world today.
Dr. Delgado has over 37 years of Oral and Maxillofacial Surgery experience. He and Dr. Michael Kuzmik are the longest-practicing partners in the DC Metro area, with over 70 years of combined experience. Dr. Delgado is a Diplomate of the American Board or Oral and Maxillofacial Surgery, the National Board of Dental Anesthesia, American Dental Society of Anesthesia and is a fellow of the American Association of Oral and Maxillofacial Surgery. He has active memberships in the American Association of Oral and Maxillofacial Surgeons, American Dental Association, Virginia Dental Association, Northern Virginia Dental Society, and Mid-Atlantic Society of Oral and Maxillofacial Surgeons. He is voted one of the top Oral and Maxillofacial surgeons in the DC Metro area in the Washingtonian, Northern Virginia, Virginia Living, and Viva Tysons magazine on a yearly basis.
Dr. Delgado is an avid sports enthusiast and has coached kids from grade school to college in various sports in Vienna, Virginia, and Washington, D.C. His two youngest children were also NCAA student-athletes. He lives in Vienna with his wife, and when not treating patients, he can be found on the golf course and cheering on his two grandsons on the ball fields, basketball courts, and ice rinks. Dr. Delgado has also authored a popular children's book titled "Cal's Magical Clubs."
For Dr. Delgado, it is a privilege to treat patients with gentle care and compassion. He addresses their concerns to make their surgical experience as comfortable and painless as possible. Dr. Delgado actively communicates with his patients, our referring dentists, and physicians to provide the best care possible. The Raiders football team's motto has been "Commitment to Excellence." Having been a part of that team, he strives to follow this motto in treating his patients and in his practice.
Reviews
"I have already posted a rave review on HealthGrades for Dr. Delgado… I just had a wisdom tooth extracted and the experience was far better than I could've ever imagined. Hence, I highly recommend him!!"
K.T.
Google
"I needed to get my wisdom teeth removed as efficiently, and effectively as possible. This office did a wonderful job at not only removing them with the least amount of pain, but ensuring that I was comfortable, and had all possible forms and applications filled out ahead of time. A process that may normally take 2-3 months simply took a few weeks! Thank you so much Dr. Delgado, and Dr. Kuzmik!"
F.
Google
"Dr Delgado and his team were highly skilled, compassionate and professional."
R.D.
Google
"Dr Delgado was very friendly and efficient while dealing with my 98 year old mother."
C.B.
Google
"Thousand stars for efficiency, excellence, and transparency! I believe they are the top best oral surgeons in the country. I think the doctors here are a gift to the humanity. This provider is here to serve the people and not running a business. Efficient service: Got appointment within a week for bottom wisdom teeth removal. They kept notes when I made the appt and didnt have to repeat when i was there for the appt. They ask for only the info they need, Minimal paperwork (only whats necessary). Nobody gave any bs sales speech. Excellent professionalism: x-ray and tooth extraction were done on the same day. The entire process took maybe 45mins but the actual surgery took less than 5mins. That's how expert Dr. Kuzmik is! Felt a little bit of pressure during the surgery and coudn't tell when the tooth was out. No pain during the procedures. The doctor and staff provided details before, during and after the surgery, and care instructions at home. The doctor even called to check on me at night how im doing and if i needed any assistance. Cost Transparency: They offer the best value and very upfront about out of pocket cost. No hidden cost nor crazy bills. Wish I found this provider when I had my upper wisdom teeth removed. They met all the check marks of being a great doctor/provider. Highly recommend them for any oral surgery needs. I hope the doctors share their incredible knowledge with new generation oral surgeons via apprenticeship. Wish Drs. Delgado & Kuzmik the best and their patients."
M.
Google