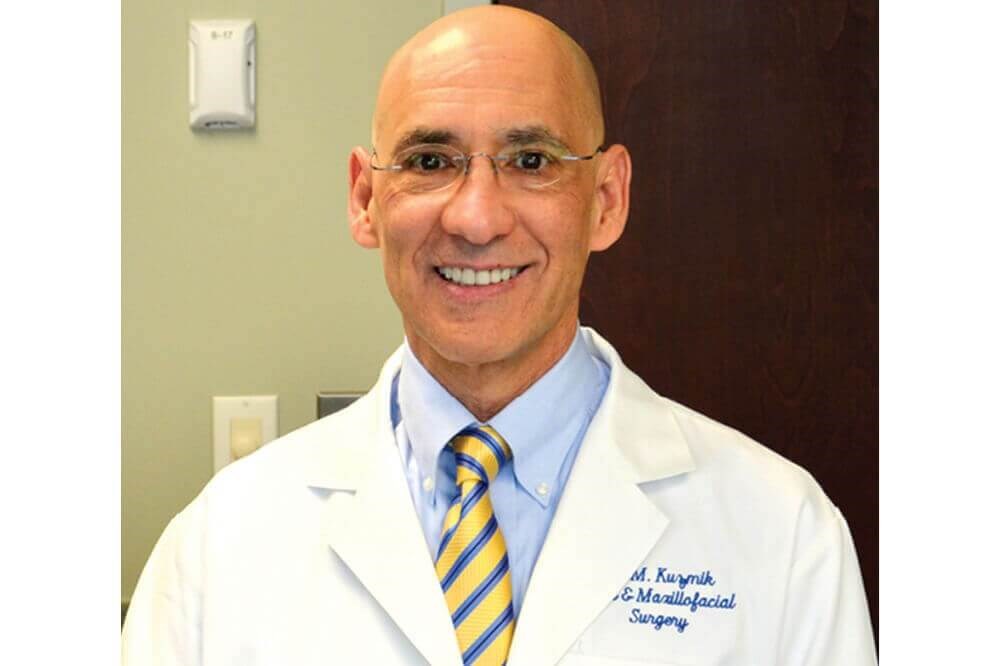 Michael D. Kuzmik, D.D.S.
As a board-certified oral and maxillofacial surgeon, Dr. Michael Kuzmik is also certified in dental anesthesia and Advanced Cardiac Life Support (ACLS). With a special interest in advanced dental implant restorations, he is very active in continuing education in order to stay up-to-date on the latest advancements. Dr. Kuzmik has participated in supporting local organizations and charities, along with donating his time to the Northern Virginia Dental Clinic. He was also chosen by the Washingtonian magazine as one of the best oral and maxillofacial surgeons in Virginia, Washington, D.C., and Maryland. Dr. Kuzmik currently resides in McLean, VA with his three children.
Dr. Kuzmik earned his Bachelor of Science in pharmacy degree in 1977 and a doctor of dental surgery degree in 1980 from Ohio State University. In 1986, he then completed a one-year residency at Prince George's Medical and Trauma Center in Cheverly, MD, as well as specialty training in oral and maxillofacial surgery and anesthesia at St. Francis Medical Center in Pittsburgh, PA and Jackson Memorial Hospital in Miami, FL. After four years of associate practice in the Washington metropolitan area, Dr. Kuzmik helped establish our Alexandria, VA office in 1994.
Along with holding teaching positions at Prince George's Medical and Trauma Center and the Georgetown University School of Dentistry, Dr. Kuzmik also belongs to numerous professional organizations and study clubs, including:
Diplomate of the American Board of Oral and Maxillofacial Surgery
The American Dental Association
The Virginia Dental Association
The Northern Virginia Dental Society
The American Dental Society of Anesthesiology
The American Association of Oral and Maxillofacial Surgery
The Academy of Osseointegration
The Implant Society of Northern Virginia
Reviews
"Thousand stars for efficiency, excellence, and transparency! I believe they are the top best oral surgeons in the country. I think the doctors here are a gift to the humanity. This provider is here to serve the people and not running a business. Efficient service: Got appointment within a week for bottom wisdom teeth removal. They kept notes when I made the appt and didnt have to repeat when i was there for the appt. They ask for only the info they need, Minimal paperwork (only whats necessary). Nobody gave any bs sales speech. Excellent professionalism: x-ray and tooth extraction were done on the same day. The entire process took maybe 45mins but the actual surgery took less than 5mins. That's how expert Dr. Kuzmik is! Felt a little bit of pressure during the surgery and coudn't tell when the tooth was out. No pain during the procedures. The doctor and staff provided details before, during and after the surgery, and care instructions at home. The doctor even called to check on me at night how im doing and if i needed any assistance. Cost Transparency: They offer the best value and very upfront about out of pocket cost. No hidden cost nor crazy bills. Wish I found this provider when I had my upper wisdom teeth removed. They met all the check marks of being a great doctor/provider. Highly recommend them for any oral surgery needs. I hope the doctors share their incredible knowledge with new generation oral surgeons via apprenticeship. Wish Drs. Delgado & Kuzmik the best and their patients."
M.
Google
"Dr. Michael Kuzmik is without a doubt the best oral surgeon in the world. He saved my life. Dr. Kuzmik is a caring and compassionate professional. A true asset to the dental profession."
J.M.
Google
"I don't even know how to best describe this place. I had a number of unfortunate dental experiences and Dr Kuzmik was my last hope. So I waited for two complex procedures before I'd review: a dental implant and an extraction with bone graft. I cannot overstate Dr Kuzmik's expertise. He is infinitely meticulous and fastidious. I had no pain, and I mean nothing more than mild gum tenderness, after both procedures. I'm talking drilling a screw into your jaw, and pulling teeth and packing the site with chips. I don't know what kind of magic is this, but I am one day after the extraction and I'm not even taking Tylenol. I have two stitches in my mouth, I can feel them with my tongue, so it should hurt, you'd think. It doesn't. The implant is nice and straight. And the cost is perfectly reasonable. I'd trust Dr Kuzmik with overseeing a flight to Mars, or brain surgery, or any other expert task, because he's that careful and detail oriented. Mars aside, I am so happy I was referred to this office. Edit: I forgot to mention, he calls to check on you after the procedure, then you go back for a one week checkup post implant, there is a torque exam of some sort still in my future, in short you get a lot of care and monitoring, to ensure you're healing well and everything is juuust perfect."
L.L.
Google
"Dr Kuzmik made it a very comfortable experience throughout the whole procedure. He explained the entire process step by step while removing my 4 wisdoms. He also reached out later throughout the day for a check up. His assistant was also very sweet and lovely while explaining the postoperative instructions. Entire procedure took about 30 minutes. Pain was around 4/10 mostly from the anesthesia shots. The actual tooth removal was painless, i more so felt pressure. I recommend this place to anybody, 10/10 :)"
J.L.
Google
"First things first: This is an amazing office, with perfect professionals--from start to finish As I prepared for my visit this morning, I was convinced that I needed anesthesia for the extraction. After consuIting with Dr. Kuzmik's staff-- I decided to go without--and I am so glad I did. He made it virtually painless! We (my family) have had several visits to this office--with both doctors--and we all highly recommend them--the front-office folks (Kayla and Melissa) were welcoming, and wonderful. Dr. Kuzmik's assistant---Sue Lynn--was incredibly sweet, calming, reassuring, and so professional! You can't go wrong with them!"
D.H.
Google
Related Post