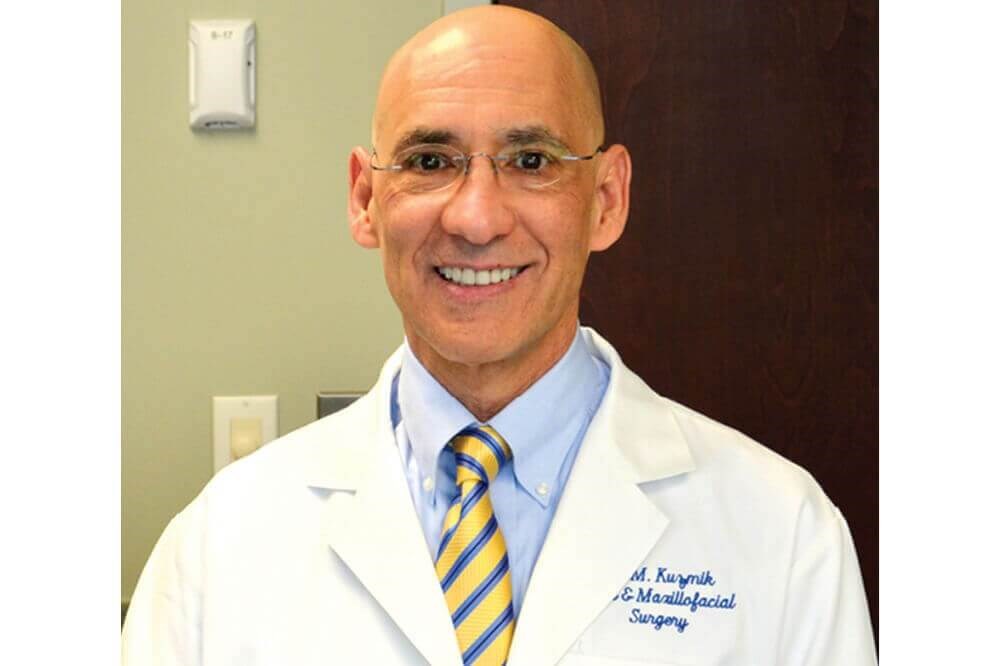 Michael D. Kuzmik, D.D.S.
As a board-certified oral and maxillofacial surgeon, Dr. Michael Kuzmik is also certified in dental anesthesia and Advanced Cardiac Life Support (ACLS). With a special interest in advanced dental implant restorations, he is very active in continuing education in order to stay up-to-date on the latest advancements. Dr. Kuzmik has participated in supporting local organizations and charities, along with donating his time to the Northern Virginia Dental Clinic. He was also chosen by the Washingtonian magazine as one of the best oral and maxillofacial surgeons in Virginia, Washington, D.C., and Maryland. Dr. Kuzmik currently resides in McLean, VA with his three children.
Dr. Kuzmik earned his Bachelor of Science in pharmacy degree in 1977 and a doctor of dental surgery degree in 1980 from Ohio State University. In 1986, he then completed a one-year residency at Prince George's Medical and Trauma Center in Cheverly, MD, as well as specialty training in oral and maxillofacial surgery and anesthesia at St. Francis Medical Center in Pittsburgh, PA and Jackson Memorial Hospital in Miami, FL. After four years of associate practice in the Washington metropolitan area, Dr. Kuzmik helped establish our Alexandria, VA office in 1994.
Along with holding teaching positions at Prince George's Medical and Trauma Center and the Georgetown University School of Dentistry, Dr. Kuzmik also belongs to numerous professional organizations and study clubs, including:
Diplomate of the American Board of Oral and Maxillofacial Surgery
The American Dental Association
The Virginia Dental Association
The Northern Virginia Dental Society
The American Dental Society of Anesthesiology
The American Association of Oral and Maxillofacial Surgery
The Academy of Osseointegration
The Implant Society of Northern Virginia
Reviews
"Where do I start? I am so impressed by the care and the expertise from both the staff, the assistant Suelynn, and Dr. Delgado. I had two implants today. Everything went well. When your doctor is an expert who has been performing surgery for many years, you are in excellent hands. They are compassionate, caring, careful, and professional. I am going to recommend this practice to my family members, friends, and colleagues as well. I give them five starts, but if there were ten, I would not hesitate to granted them the maximum. I am a teacher, I give them an A+. Bravo for Dr. Delgado, Dr. Kuzmik and his staff."
G.M.
Facebook
"Awesome experience! Dr Kuzmik and his staff are outstanding!"
B.C.
Google
"From the first time we entered the office for the consultation, we were treated with the best care. The office is comfortable, clean, and nice. Kira at the front desk was so great at explaining the process of the surgery and set us up for success. On the day of the procedure we were greeted by the dental assistant Suelynn who was friendly and comforting to my daughter. She was able to relax because she knew she was in great hands. She loved the music they played and said all her nerves went away. Thanks to the surgeon, Dr. Kuzmik for a job well done. We will definitely use Drs. Kuzmik and Delgado for all our oral surgery needs. I highly recommend this practice to anyone who values great care and a friendly atmosphere."
S.H.
Google
"Drs. Delgado and Kuzmik are excellent oral surgeons. The office is pleasant and very professional. I highly recommend this office for your oral surgery needs. BTW ... I am a retired dentist."
J.F.
Google
"I would like to share my recent most excellent experience with Dr Hamad Alharbi. For many years I had been an extremely satisfied patient of Dr Michael Kuzmik who has since retired. I recently required urgent oral surgery to remove two teeth. This was my first visit to Dr Alharbi (who had immediately agreed to see me same day). He performed a very thorough but timely diagnosis and clearly explained his prognosis and recommended course of action. His attention to detail with meaningful explanations and responses to questions are exceptional. My surgical procedure was timely, thorough and painless. Dr Alharbi followed up after surgery several times to check on my recovery(which has gone very well). I strongly recommend Dr Alharbi."
R.K.
Google
Related Post